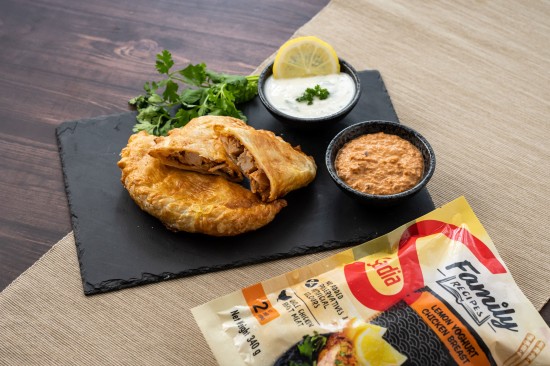 Creamy Butter Chicken Puff

30 min

2 SERVINGS
INGREDIENTS
1 pack Sadia Lemon Yoghurt Chicken Breast, thawed
1 pack frozen prata
1 egg
50g butter
150ml heavy cream
1/2 tsp salt
2 tsp sugar

Spices, to blend
35g cashews or walnuts
1 medium yellow onion (quartered)
1 5cm ginger (peeled)
2 tbsp minced garlic
150ml tomato puree
1 piece chilli padi
1 stick cinnamon
2 black cardamom pod
2 green cardamom pod
1/2 tsp fenugreek seeds
1/2 tbsp Garam Masala
1 tsp chili powder
2.5g dried fenugreek leaves
METHOD
Blend spice ingredients to a paste
Melt 20g butter in a heated deep pan, over medium heat. Add the blended paste and fry till fragrant
Add heavy cream, salt and sugar, and bring to boil
Turn off the heat then add in the remaining butter
Slice Lemon Yoghurt Chicken Breast into bite-sized pieces and add to the sauce. Mix well
With a spoon, place 2 to 3 scoops of the mixture into the centre of a semi-thawed frozen prata. Fold over and pinch the edges shut. Then pleat the edges like a regular curry puff by pinching and twisting it over.
Brush the pastry with some egg wash, then bake at 200°C for about 20 mins, or till golden brown.
Serve hot!
Lemon Yoghurt Chicken Breast
Popular Recipes