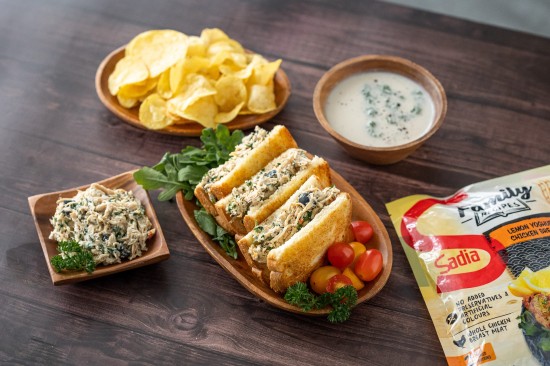 Lemon Yoghurt Chicken Salad Sandwich Melt

10min

4 SERVINGS
INGREDIENTS
1 pack Sadia Lemon Yoghurt Chicken Breast
2 tbsp sour cream or cream cheese
50g shredded mozzarella cheese
1 tbsp basil, chopped finely
2 tbsp arugula, chopped finely
1 clove garlic, minced (optional)
4 olives, pitted, chopped
10g butter
Salt and pepper, to taste
8 slices of bread
METHOD
Heat up the chicken breasts per packaging instructions and Shred chicken finely.
In a small bowl, mix chicken with sour cream (or cream cheese), basil, arugula, garlic, and olives.
Spread the chicken salad mix onto a slice of your favourite bread and top with mozarella cheese. Cover with another slice of bread and press both slices together
Heat butter on a skillet over medium high heat
Place bread on skillet and flip over when toasted on one side
Once done, slice in 1/2 and serve with your favourite soup or fries!
Lemon Yoghurt Chicken Breast
Popular Recipes