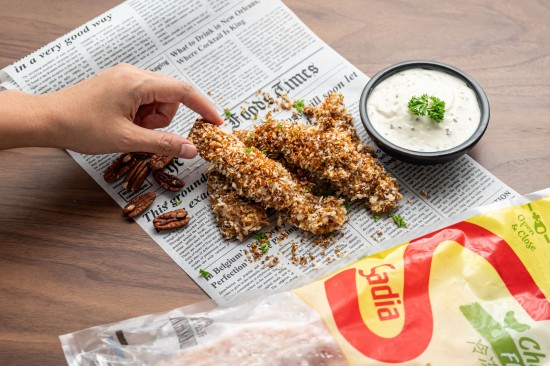 Baked Pecan Chicken Tenders

20 min

4 SERVINGS
INGREDIENTS
3/4 pack of Sada 1-by-1 Chicken Fillet
2 cups raw pecan halves or pieces
1 cup panko
1 tsp garlic powder
1 tsp salt
1 cup all-purpose flour
3 eggs
Ranch dressing, to serve
METHOD
Preheat oven to 210°C2.
In a food processor, pulse pecans until as fine as breadcrumbs. Mix pecans along with panco, garlic powder, cayenne and salt in a shallow bowl.
In another shallow bowl, whisk eggs until smooth. Finally, in a third shallow bowl add flour.
Lightly season chicken tenders with salt and pepper
Working with one chicken tender at a time, dip in eggs, flour, eggs and then pecan mixture. Be sure to press the pecan mixture onto the chicken to be sure it is completely coated. Set chicken on a baking sheet lined with a cooling rack or parchment paper. Repeat with the remaining chicken.
Place chicken on centre rack and bake for 20 minutes, unitl golden brown and cooked thorough.
Serve pecan tenders warm with ranch sauce.
One by One Chicken Fillet
Popular Recipes