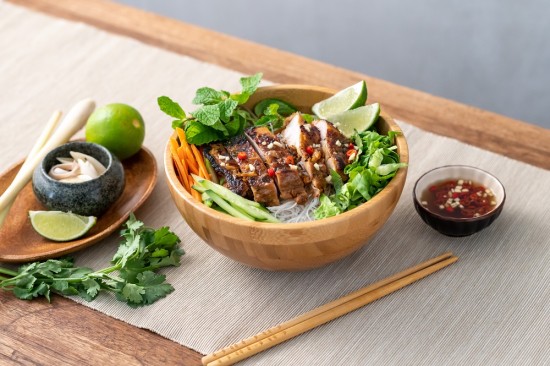 Lemongrass Chicken Noodles

20 mins

5 SERVINGS
INGREDIENTS
Chicken and Marinade:
1 pack Sadia Chicken Thigh
1 stalk lemongrass, sliced into pieces (white part only)
2 garlic cloves, chopped or minced
2 tbsp lime juice
2 tbsp fish sauce
1 tbsp soy sauce, all-purpose or light only
2 tbsp brown sugar
1 tbsp vegetable oil
Vietnamese Sauce:
1/4 cup fish sauce
4 tbsp rice vinegar
2 tbsp white sugar
1/2 cup water
2 garlic cloves, finely chopped
1 chilli, finely chopped
3 tbsp lime juice
Noodle Bowl:
1/2 tbsp oil
250g rice vermicelli noodles
2 carrots, julienned
2 cucumbers, julienned
5 cups lettuce, finely sliced
3 cups bean sprouts
Handful of mint leaves
Handful of cilantro or coriander
Lime wedges, to serve
METHOD
Start by preparing the lemongrass chicken. Combine the Chicken and Marinade ingredients in a bowl and set aside for at least an hour. This can be prepared beforehand to reduce the amount of waiting time.
Heat 1/2 tbsp oil in a fry pan over medium heat. Remove chicken from marinade to be cooked in the pan.
As you remove the chicken from the marinade, shake off the larger pieces of lemongrass. Small bits should fall off during the process of cooking.
Cook each side until dark golden brown or just cooked through. This should take about 6 to 8 minutes.
Once cooked, remove chicken from pan. As you do so, shake off any remaining pieces of lemongrass and set aside to rest for 5 minutes. Then slice into thin pieces.
Next, you will prepare the Vietnamese Sauce by combining the ingredients in a bowl. Mix well to ensure sugar is fully dissolved. Then, set aside for 20 minutes. You can reduce the portions here if you would like to go easy on the sauce for a healthier recipe!
To prepare the noodles, soak vermicelli in hot water for 3 minutes. Then drain and rinse under running cold water to prevent the noodles from sticking.
Finally, to assemble the dish, portion vermicelli into 4 bowls. Top it off with sliced chicken and vegetables.
Drizzle each bowl with 4 tablespoons of Vietnamese Sauce and pair with lime wedges. Alternatively, you can also place the noodles, chicken, vegetables and sauce in separate bowls and have your guests DIY their own bowls!
Chicken Thigh
Popular Recipes