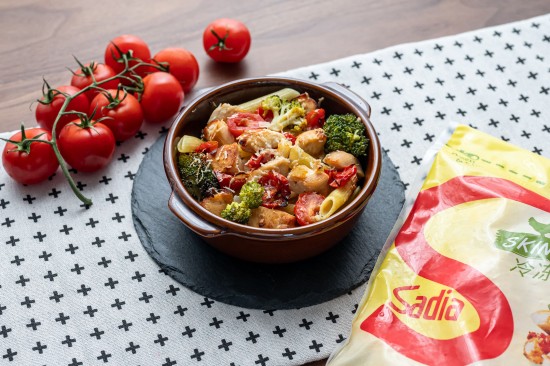 Chicken & Broccoli Pasta

10 min

6 SERVINGS
INGREDIENTS
3 tsp olive oil
500g (½ pack) Sadia One by One Chicken Breast (Skinless) - cut into 1 inch pieces
1 tsp chopped onion
3 garlic cloves, chopped
2 cans diced tomatoes
2 cups fresh broccoli florets
salt and pepper to taste
1 pinch dried oregano
40g dry penne pasta
¼ cup fresh basil leaves, cut into thin strips
2 tsp grated Parmesan cheese
METHOD
Oil a large skillet over medium heat then cook chicken until they lightly brown. Add onion and garlic to cook for about 5 minutes.
Add tomatoes, broccoli, salt, pepper and oregano, stir well until it comes to a boil. Cover the pot and lower heat and leave it stewing for about 10 minutes.
Boil a large pot of lightly salted water. Add in the pasta and cook for 8 to 10 minutes (per pack instructions) before draining and adding them back into the pot. Pour chicken sauce into pot and mix well.
Add basil and toss; sprinkle Parmesan cheese to finish then serve.
One by One Chicken Breast (Skinless)
Popular Recipes