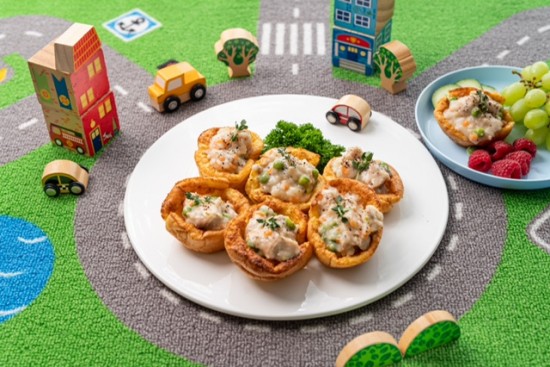 Chicken Pot Popovers

20 - 25 mins

6 SERVINGS
INGREDIENTS
Filling:
1 pack Sadia Chicken Cubes, boiled
3 cups low-sodium chicken broth
1/3 cup all-purpose flour
2 tbsp grated parmesan cheese
1 tsp salt
1/4 tsp pepper
1 cup frozen peas and carrots
Fresh parsley, chopped for garnish
Popovers:
Non-stick baking spray
1 cup whole milk
3/4 cup all-purpose flour
3 large eggs, lightly beaten
1/2 tsp salt
3 tbsp unsalted butter, melted
1/4 tsp baking powder
METHOD
Prepare your chicken cubes beforehand by boiling or stir-frying it. Set aside for the fillings later. Preheat oven to 200°C.
For the popovers: Whisk the milk, flour, eggs and salt in a medium bowl until combined. Drizzle in the melted butter while whisking until combined; let the batter stand for 5 minutes.
Add the baking powder; whisk the batter to combine well then divide it evenly into the muffin tin. Bake the popovers at 200°C until puffed and browned around the edges, about 20 to 25 minutes, rotating the pan about halfway through.
For the filling: While the popovers are baking, let your little masterchefs help (under supervision) with combining the broth and flour in a medium saucepan and whisk until the flour is dissolved.
Place the saucepan over medium heat and whisk continuously until the mixture comes to a boil; continue to whisk until the mixture is thick enough to coat the back of a spoon, 4 to 5 minutes.
Reduce the heat to low and whisk in grated parmesan, salt and pepper. Stir in the peas and carrots, then the chicken cubes; cover to keep warm.
To assemble: When the popovers are done, turn them out of the muffin tin, using a small spatula if necessary. Plate the popovers and divide the fillings evenly by scooping it onto the popovers. Garnish with chopped parsley and sprinkle some grated parmesan if preferred. Serve it warm!
Popular Recipes