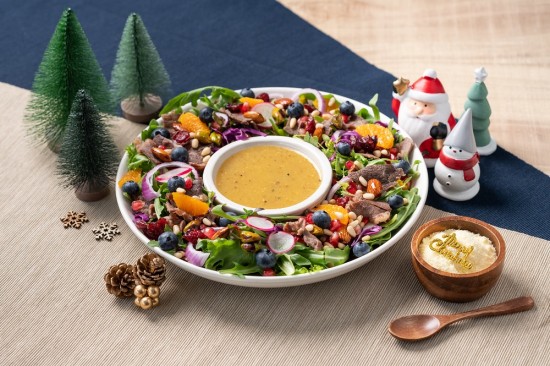 Big Festive Sliced Beef Salad

20 mins

4-5 SERVINGS
INGREDIENTS
Beef:
2 packs Sadia Beef Stir Fry
Salt and Pepper to taste
Candied Nuts:
20g raw pistachios, unsalted
20g raw hazelnuts
1 tbsp light brown sugar
1/2 tsp kosher salt
1/4 tsp pure vanilla extract
Salad:
4 cups or 300g mixed salad
2 mandarin oranges, peeled and segmented
1/4 cup pomegranate seeds
1/4 cup dried cranberries
1/4 cup fresh blueberries
1-2 tbsp grated Parmesan
Dressing:
1/4 cup olive oil
28g apple cider vinegar
1 tbsp maple syrup
1/2 tbsp Dijon mustard
Salt and black pepper to taste
METHOD
For the candied nuts: Toast the pistachios and hazelnuts in a non-stick skillet over medium-high heat, until fragrant for about 4-5 minutes.
Add the brown sugar, salt, vanilla and 1 tbsp water directly into the pan with the nuts and stir to coat them. Cook until the sugar has dissolved, about 1 minute. Then transfer to a parchment-lined baking sheet and allow to cool, 12-15 minutes.
For the dressing: Combine the olive oil, apple cider vinegar, maple syrup, mustard, salt and pepper in a jar. Secure the lid and shake well to combine. Then set aside.
Heat pan and add beef to pan until browned. Lightly season with some salt and pepper. Once cooked, set aside.
For the salad: Spread the mixed salad over a large round platter, leaving space in the center of the platter (it should look like a holiday wreath). Arrange the mandarin orange segments over the greens. Sprinkle with the pomegranate seeds, cranberries, blueberries, cooled candied nuts and add in the cooked beef.
Lastly, sprinkle grated Parmesan cheese, creating the look of snow. Shake the dressing one more time and pour it into a small serving bowl. Place the bowl in the center of the platter and serve!
Beef Stir-Fry
Popular Recipes