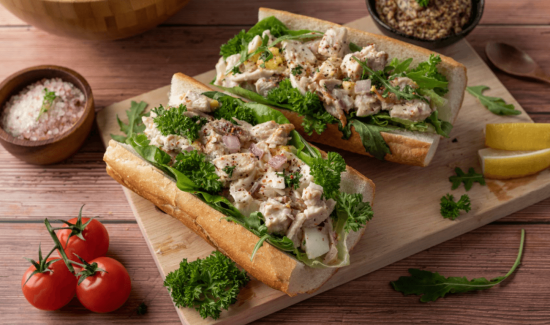 Chicken Salad Baguette

15 mins

2 SERVINGS
INGREDIENTS
2 hard boil eggs
1-2 cups leftover roast chicken, chopped up
2 tbsp red onion (finely chopped)
2 tbsp celery (finely chopped)
1 tbsp chives (finely chopped)
3 tbsp mayonnaise (or as needed to moisten)
pinch of salt and freshly ground black pepper (to taste)
bagette split open for 2 servings
1 large romaine lettuce leaf, sliced long side into 2
METHOD
Peel and chop up the eggs.
In a medium bowl, add the chicken, onions, celery, and egg. Toss to blend.
To the same bowl, season the mixture by adding mayonnaise, salt and ground pepper. Stir with a fork until well blended. (Add more mayonnaise to moisten the mixture, if necessary.)
After slicing the baguettes lengthwise, add a sliced lettuce leaf to the bottom half of the baguette.
Add the mixture of chicken salad on the lettuce.
Place another sliced lettuce leaf and top it off with the other half of the baguette. And it's tIme to tuck in!

Note: Leftover chicken salad kept in an airtight container in the refrigerator can last for up to 3 days.
Popular Recipes