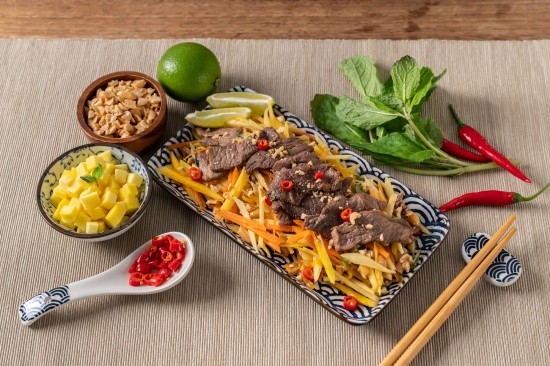 Beef and Papaya Salad

Marinating

4 SERVINGS
INGREDIENTS
1 pack beef stir-fry
1 tbsp soy sauce
1 tbsp golden caster sugar
1 clove garlic
1 green papaya, shredded
Carrots, shredded
Roasted peanuts
1 small bunch of Vietnamese or English mint, chopped
For the Dressing:
1 tbsp fish sauce
1 tbsp rice vinegar
2 red Thai chillies
1 clove garlic
1 lime, juiced
6 tbsp water
METHOD
Marinate beef in soy, sugar and garlic for 30 minutes.
Soak papaya and carrots in iced water for 15 minutes.
Mix dressing ingredients with 6 tablespoons of water.
Heat up frying pan until very hot. Stir fry beef for 1-2 minutes.
Drain papaya and carrots. Add dressing.
Add beef, nuts and mint. Toss and serve.
Beef Stir-Fry
Popular Recipes