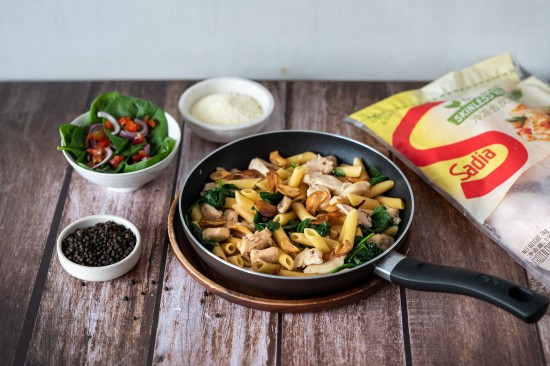 Chicken & Spinach Skillet Pasta

10 min

4 SERVINGS
INGREDIENTS
250g penne pasta
2 tbsp extra virgin oilive oil
450g Sadia skinless chicken breasts, cut to nite-sized pieces
Salt and Pepper to taste
750ml chicken stock
4 cloves garlic, minced
300g baby spinach
4 tbsp grated Parmesan cheese
METHOD
Cook pasta according to package direction
Heat oil in a large deep dish skillet over medium-high heat. Add chicken, salt and pepper, stirring occasionally, until just cooked through, 5 to 7 minutes
Add garlic and cook, stirring, until fragrant, about 1 minute. Stir in chicken broth and simmer
Remove from heat and stir in spinach and the cooked pasta. Cover and let stand until the spinach is just wilted.
Divide among 4 plates and top each serving with 1 tbsp Parmesan cheese.
One by One Chicken Breast (Skinless)
Popular Recipes