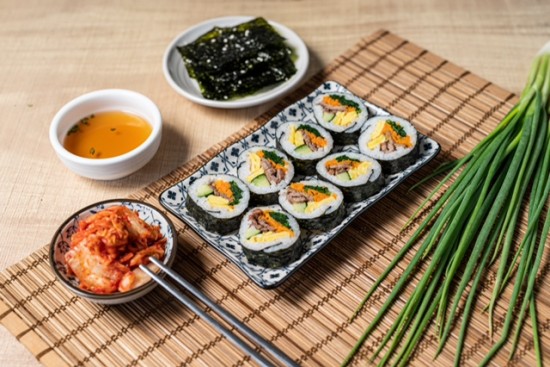 Kimbap

30 mins

2 SERVINGS
INGREDIENTS
RICE
1 rice cooker cup or 160g short-grain rice
185ml water, plus extra for rinsing
2 tbsp sesame oil
1 tbsp sesame seeds, toasted

FILLING
1 large egg
1/2 carrot, peeled and julienned
200g Beef Stir-Fry
1 handful spinach
1/2 Japanese cucumber

ASSEMBLY
2 pieces of nori (dried laver seaweed)
METHOD
Cook the rice in the rice cooker.
Once done, tip the rice out into a bowl and stir in the sesame oil and sesame seeds. Cover with a damp tea towel and set aside.
Beat the egg with a pinch of salt. Fry into an omelette in a non-stick pan and slice into strips.
Heat 1 tsp oil in a frying pan. Add in carrot and a pinch of salt. Cook until carrot has softened.
Marinate meat with 1 tbsp light soy sauce, 1/2 tbsp sesame oil and 1/2 tbsp brown sugar. Heat pan with 1 tbsp oil and stir-fry the meat until cooked.
Boil a pot of water and season with a generous pinch of salt. Add in spinach and blanch until spinach has softened. Drain spinach and squeeze to remove excess water after it has cooled down slightly.
Cut cucumber into long strips.
Place nori on a bamboo rolling mat with its rough side up.
Spread half the rice on the nori, leaving some spacing at the top. Then layer with desired filling on top of the rice.
Using the bamboo mat, roll up the kimbap tightly, making sure that the start of the rice meets the end of the rice to make a nicer looking roll.
Stick a few grains of rice on the end of the nori for it to stick better. Roll it up - use the bamboo mat to help keep the roll tight. But don't use too much force as it may cause the roll to go out of shape.
Repeat to make the second roll. Cut rolls into 6 to 8 pieces each, wiping the knife with a damp cloth before each slice. Serve immediately.
Beef Stir-Fry
Popular Recipes