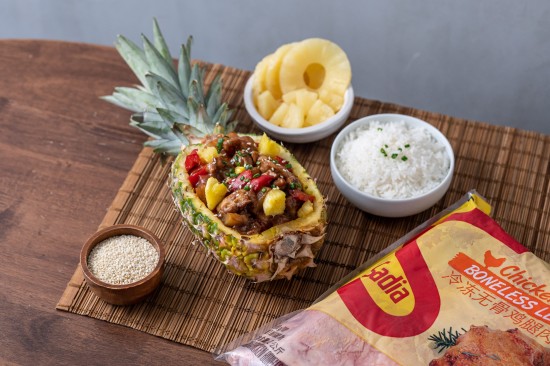 Pineapple Chicken

10min

4 SERVINGS
INGREDIENTS
2 teaspoons vegetable oil
1/2 pack Sadia Boneless Leg, cut into 1 inch pieces
1 red bell pepper seeded. cored and cut into 1 inch pieces
1 cup pineapple chunks fresh or canned
1 teaspoon minced garlic
1 teaspoon minced ginger
3/4 cup pineapple juice
1/4 cup soy sauce
1/3 cup chicken broth
1/3 cup hoisin sauce
1/4 cup brown sugar
2 teaspoons corn starch
2 teaspoons sesame seeds
1 tablespoon sliced green onions
salt and pepper to taste
METHOD
Heat the oil in a large pan over medium high heat. Season the chicken with salt and pepper to taste and add to the pan.
Cook the chicken for 6-8 minutes, stirring occasionally, until chicken is cooked through.
Toss the red bell pepper and pineapple chunks to the pan and cook for 4-5 minutes or until tender. Throw in some ginger and garlic and cook for 30 seconds more.
Whisk the pineapple juice, soy sauce, chicken broth, hoisin sauce and brown sugar together.
Add the sauce mixture to the pan and cook it until right before it boils.
Mix the corn starch with 1 tablespoon of cold water to smoothen the starch by stirring, then add the cornstarch mixture to the pan and stir to combine. Bring to a boil and cook until the sauce builds to a thick and viscous consistency.
Sprinkle with sesame seeds and green onions, then serve.
Chicken Boneless Leg
Popular Recipes