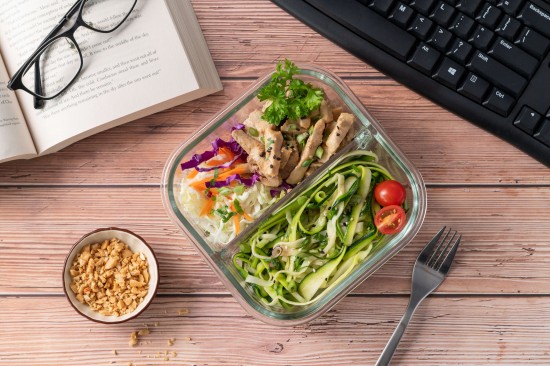 Spiralised Pad Thai Chicken Bowl

20 mins

4 SERVINGS
INGREDIENTS
1 tbsp olive or coconut oil
1 small yellow onion, diced
1 pack chicken breast strips
4 zucchinis, spiralised or cut into matchsticks
1 package carrot matchsticks
1/2 red cabbage, thinly chopped
2-3 scallions, sliced
1/4 cup peanuts, chopped
1/3 cup cilantro, finely chopped
PAD THAI SAUCE:
1/4 cup tamarind paste
1 tbsp lightly salted soy sauce
1 tbsp peanut butter
2 cloves garlic, minced
2 tsp fish sauce
2 tsp lime juice
METHOD
Whisk ingredients for Pad Thai sauce together in a medium-sized glass bowl.
Heat olive oil on medium high heat. Add onions, sauteeing for 2-3 min until softened.
Add chicken and 3/4 of the Pad Thai sauce, stirring to combine and cooking for 8-10 min until chicken is fully cooked.
Remove from heat and add zucchini noodles, sauteeing for 30 seconds with remaining Pad Thai sauce. Remove from heat immediately and add to glass meal prep bowls.
Add chicken, carrots and red cabbage to each bowl. Garnish with scallions, peanuts and cilantro. Refrigerate up to 4-5 days and bring them for work lunches.
Popular Recipes