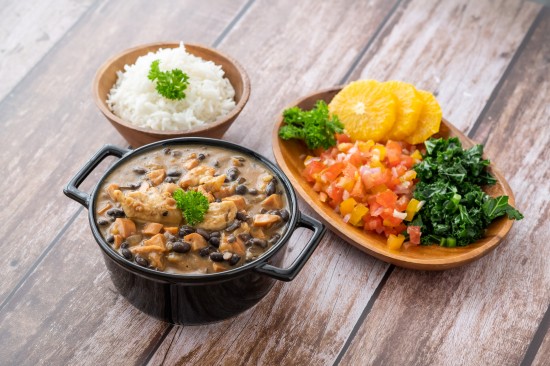 Chicken Feijoada

10 min

4 SERVINGS
INGREDIENTS
230g Sadia Chicken Thigh, diced to bite-sized pieces
1 tbsp olive oil
230g spicy chicken sausage, diced
2 cups onion, diced
2 tbsp garlic, minced
450g black beans, drained and rinsed
1/2 tsp curry powder
6 cups water
1 bunch kale, chopped
Salt and pepper, to taste
METHOD
Put olive oil in a heavy bottomed pot, over medium heat
Add diced Sadia Chicken Thigh and season with salt and pepper. Cook for 5 mins until golden brown, then set aside
Add spicy chicken sausages in the same pan and cook for 5 mins, until golden brown
Add onions and garlic to the same pot. Sauté until translucent
Add curry powder and season with salt and pepper
Place the chicken back in the pot, then add black beans and water. Bring to a simmer
Add kale to stew just before serving
Serve hot with baguettes or over rice. Enjoy!
Chicken Thigh
Popular Recipes