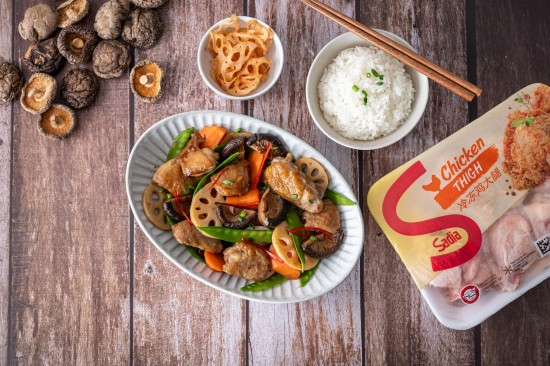 Chicken & Lotus Stir-fry

20min

4 SERVINGS
INGREDIENTS
1 pack Sadia Chicken Thigh
2 stems of lotus root
1 carrot
3 dried shiitake mushrooms
A handful of snow peas
A few squirts of Olive oil
3 Tbsp soy sauce
3 Tbsp mirin
2 cups of water
A dash of vinegar for the water (to soak lotus)
METHOD
Chop chicken thigh into bite-sized pieces.
Cut the lotus root and carrot into larger slices and rinse the lotus root slices in vinegared water to prevent oxidation.
Soak the shiitake mushrooms in water until soft, then cut off their stems and cut their caps in half. Boil the snow peas until soft and set aside.
Heat the olive oil in a frying pan before adding in chicken thigh, lotus root and carrots to saute.
Once it starts to simmer, pour in the soy sauce and mirin.
Remove any scum that forms when it comes to a boil, and cover the pot with a lid and let it cook for 15 minutes over medium heat.
Add the snow peas and stir-fry quickly over high heat before serving the dish.
Chicken Thigh
Popular Recipes