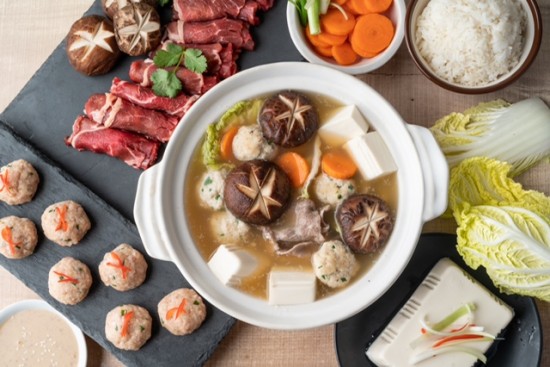 Chanko Nabe (Sumo Stew)

45 mins

6 SERVINGS
INGREDIENTS
Broth:
6 cups (1,440ml) chicken broth
1/4 cup (60ml) sake --> water
1/3 cup (75ml) mirin --> 1 tbsp mirin = 1 tbsp water + 1 tsp sugar
2 tbsp ginger juice (use grater and squeeze grated ginger)
1½ tsp garlic, crushed
½ cup miso (preferably white miso; 8 tbsp)
Chicken meatballs:
1 pack Sadia minced chicken
1 large egg, beaten and halved
2 tsp ginger juice
2 tsp soy sauce
1 tbsp corn starch
6 tbsp panko (Japanese breadcrumbs)
3 tbsp green onions or scallions, finely chopped
Stew:
Chicken meatballs
1 pack Sadia beef shabu
Seafood (optional)
14 oz medium-firm tofu, cut into 1-inch cubes
½ head napa cabbage, separate leaves and cut smaller
2 negi (long green onion), sliced
6 green onions or scallions, sliced
4-6 shiitake mushrooms, with stems removed
1/4 carrot, sliced for decoration
For serving:
Ponzu
Sesame sauce
2-3 cups cooked Japanese short-grain rice or 4-6 cups udon noodles
METHOD
Gather all ingredients for Chanko Nabe broth. Except for miso, combine the other ingredients in a large pot over medium heat and bring to a simmer.
Spoon several spoonfuls of broth into a small bowl and add the miso. Stir until smooth.
Gradually add the miso mixture to broth in the pot, stirring to avoid lumps. Once the miso has been incorporated, do not let the broth boil.
To make the chicken meatballs, combine the chicken, 1/2 beaten egg and the remaining ingredients in a large bowl. Mix them together.
Once the mixture becomes a little white and well-combined, shape the mixture into a ball. Sprinkle with panko as needed.
Place the ingredients for stew on the platter.
Pour ponzu sauce and sesame sauce into individual dipping bowls.
Cook stew ingredients using portable gas burner/steamboat pot and keep broth at a simmer at all times. Note that vegetables and tofu cook more quickly than the meat.
Beef Shabu Shabu
Minced Chicken
Popular Recipes