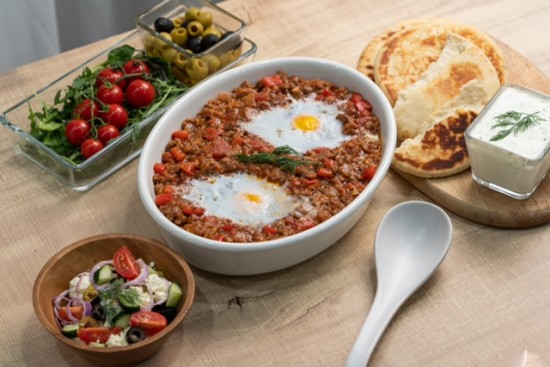 Beef Shakshuka

10 mins

3-4 SERVINGS
INGREDIENTS
300g Sadia Beef Minced
6 eggs
3 tbsp olive oil
1 large yellow onion, diced
3 cloves garlic, sliced
I red capsicum, diced
1 canned tomatoes (about 400g), diced
2 tsp paprika
2 tsp ground cumin
1 tsp ground coriander
1/2 cup water
Sea salt
Optional:
Parsley and mint, chopped
Extra virgin olive oil
METHOD
Saute diced onion for a good 5 minutes until translucent. Add a pinch of salt to draw out the moisture.
Add the capsicum and garlic and continue to saute for a further 3 minutes.
Add in the minced beef, paprika, cumin, coriander. Once the meat is browned, add in the canned tomatoes and water. Lower the heat and simmer away for 8-10 minutes until thickened.
Use the back of the spoon to make indentations. Gently drop in the eggs.
Cover the pan and simmer for 4 minutes. The yolk will be soft and runny.
Garnish with chopped mint and parsley. Drizzle some extra virgin olive oil and it's ready to be served!
Beef Minced
Popular Recipes