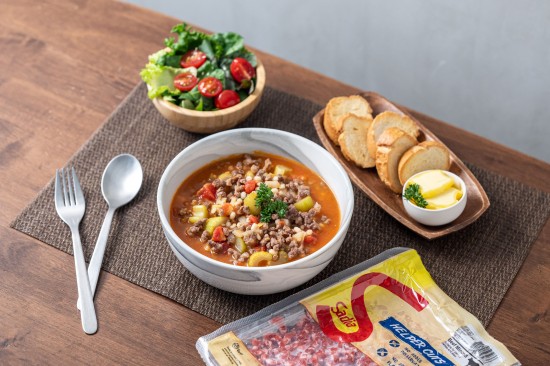 Beef & Barley

15min

4 SERVINGS
INGREDIENTS
1 pack Sadia Beef Minced
1/2 cup sliced celery
1/3 cup chopped onions
1-3/4 cups water
1 cube beef bouillon
1-1/2 teaspoons chili powder
1/4 teaspoon pepper
1/2 cup quick-cooking Barley
1 can of diced Tomatoes, undrained (400g)
Fresh parsley (for garnish)
METHOD
Cook the beef, celery and onion over medium heat until the meat is no longer pink and vegetables are tender.
Add in the water, bouillon, chili powder and pepper. Bring to a boil.
Pour barley into the mix and lower heat - cover and simmer for 10-12 minutes until barley is tender.
Pour tomatoes in and heat through for another 8-10 minutes, and keep stirring the pot to thicken the stew.
Once thickened to satisfaction, serve the stew in bowls and sprinkle on some Fresh parsley and enjoy!
Beef Minced
Popular Recipes