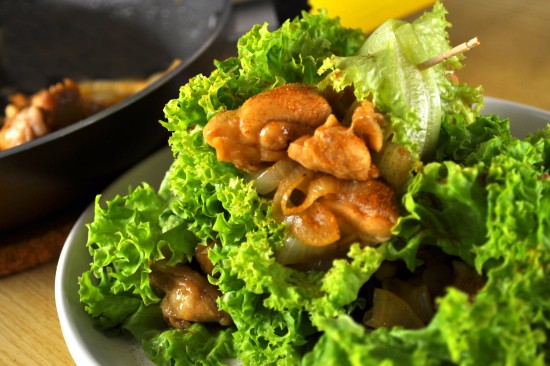 Teriyaki Chicken Veggie Wrap

10 mins

2 SERVINGS
INGREDIENTS
4 x chicken thigh from packet
Marinate:
1 tbsp vinegar
1 tbsp lemon juice
2 tbsp light soy sauce
1/2 tsp grated ginger
2 tbsp brown sugar
Large lettuce Leaf x 4
1 small yellow onion, sliced
chilli powder (optional)
METHOD
Debone and slice the chicken into bite sized pieces and put them in a bowl.
Gather the ingredients for the marinate and add them to the chicken pieces. Mix well and let it marinate for 15-20 minutes.
On medium heat, fry the onions in a pan with some oil until they turn slightly soft.
Add the marinated chicken into the pan, allowing the chicken to soak in the sauces and cook through.
Scoop out the chicken and onions, onto lettuce for serving. Add chilli powder to taste and roll it up. Secure with a toothpick, if necessary. Or, pop it right into your mouth!
Chicken Thigh
Popular Recipes