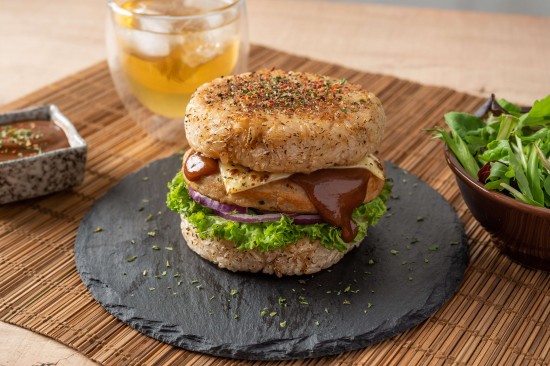 Japanese Rice Burger

20 mins

2 SERVINGS
INGREDIENTS
Rice bun:
2 cups BROWN rice, cooked
1 tsp potato starch
1 tsp sesame oil

Cling Wrap :
2 burger patties
1 red onion, sliced thinly
Olive oil
Green leaf lettuce
Cheese (optional)
METHOD
Starting with the rice buns, sprinkle potato starch on the hot steamed rice.
Mix to coat the grains but avoid crushing them. The starch will help the rice to firmly attach together.
Portion rice into 4 equally (4 buns). Wrap the rice with the cling wrap and shape it into a bun.
Coat a pan with sesame oil and add the rice buns. Lightly brown both sides.
Now, heat a small amount of olive oil in a pan over medium heat. Add the onions in and stir fry.
When slightly softened, gather the onions over to one side, making space for the patties.
Add patties to pan and cook based on instructions on the packaging.
Remove and spread ingredients on a tray for cooling. This prevents the onions from getting soggy.
Now, assemble the burger together. Place lettuce, onions, burger patty and cheese (optional) on one rice bun, then cover the toppings with another rice bun. Place each rice bun with the coating side facing outwards to enjoy the aroma of the toasted soy sauce.
Popular Recipes