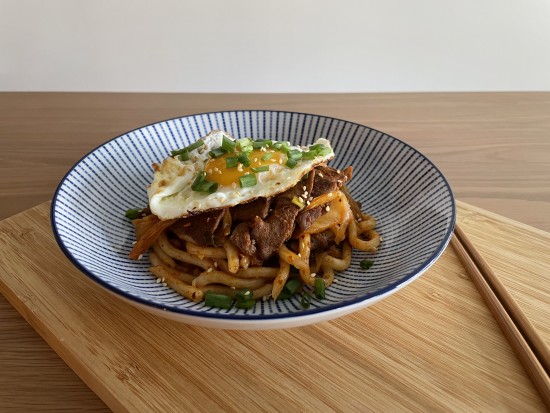 Kimchi Udon

5 mins

2 SERVINGS
INGREDIENTS
400g udon noodles
120g beef stir-fry
1 cup Kimchi, chopped into bite sized pieces
50g onion, thinly sliced
30g green onion, thinly sliced
Some cooking oil
SAUCE (mix these in a bowl):
1 tbsp Korean chilli flakes or regular chilli flakes
1/2 tbsp Korean chilli paste(gochujang)
1 tbsp soy sauce
1 tbsp honey
1/2 tsp garlic, minced
1 tsp sesame oil
1 tsp rice vinegar (optional)
GARNISH (optional but enhances flavour):
2 eggs, soft boiled or pan-fried
Few sprinkles ground black pepper
1 tbsp sesame seeds, toasted
1 tbsp green onion, thinly sliced
Few strips seasoned seaweed, roasted
METHOD
Prepare sauce mix and set aside.
Heat a pan on medium-high heat. Add some cooking oil to pan. Add beef in and cook for 3-4 mins until it is no longer red. Stir occasionally
Add onions and kimchi. Cook until they are wilted or for about 1-2 mins. Add the sauce and mix them well.
Add the udon noodles and mix them with the rest of the ingredients. Add green onions and stir lightly.
Serve noodles and garnish. You can add an egg if you like!
Beef Stir-Fry
Popular Recipes