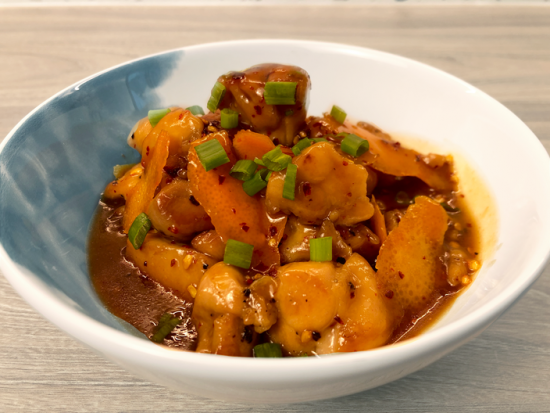 Chinese Orange Chicken

NOT AVAILABLE

4 SERVINGS
INGREDIENTS
Chicken:
1 packet chicken cubes
3 tbsp arrowroot powder (substitute: corn flour )
1 tsp fine grain sea salt
Ground black pepper
1 tbsp olive oil

Orange sauce:
⅓ cup orange juice, freshly pressed
½ cup white vinegar
½ cup raw coconut palm sugar (or any other sugar)
2½ tbsp soy sauce
1 tbsp orange zest
½ tbsp olive oil
2 tsp arrowroot powder (substitute: corn flour )
1 tbsp red pepper flakes
METHOD
In a medium saucepan, whisk arrowroot powder with orange juice until lumps are gone. Add the remaining ingredients for the sauce and bring to a boil over medium heat.
Cook until sauce thickens and coats the back of a spoon, or for about 5-6 minutes. Then set the sauce aside.
Combine chicken cubes, arrowroot powder, salt and pepper in a medium ZipLoc bag or a shallow dish. Shake or toss until all chicken pieces are evenly coated.
Heat olive oil in a wok or large skillet over medium high heat.
Add chicken and cook for 3 minutes until browned on onse side. Then turn over and cook for another 3 minutes until cooked through.
Turn heat down to very low and add orange sauce, as much as you like.
Toss until combined and serve.
Popular Recipes