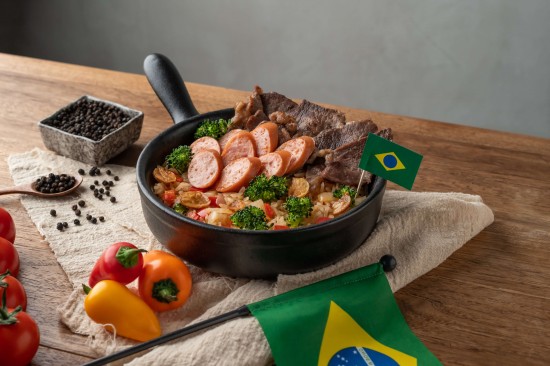 Arroz Mexidinho

30 min

1 - 2 SERVINGS
INGREDIENTS
1 packet Sadia beef sukiyaki
1 packet Sadia Viennese chicken & beef sausage
5 garlic cloves
150 g onions, diced
20 g pepper pout
150 g tomato, diced
100 g broccoli, diced into small pieces
400 g rice, cooked
20 ml red palm oil
Pinch of salt
Dash of black pepper
100 g cabbage, sliced
Vegetable Oil (fry)
METHOD
Slice beef sukiyaki and sear in a frying pan. Remove from pan and do the same with sausages.
Remove sausages from pan and add garlic, onions and pepper pout. Saute till light golden.
Add tomatoes and broccoli and stir fry for 2 minutes. Add back smoked sausage and beef sukiyaki. Add cooked rice and mix well.
Add red palm oil, salt and pepper and mix well.
Heat up vegatable oil to 180˚C and fry the thin cut cabbage leaves till crispy. Garnish on top of "mexidinho" (finished rice).
Popular Recipes