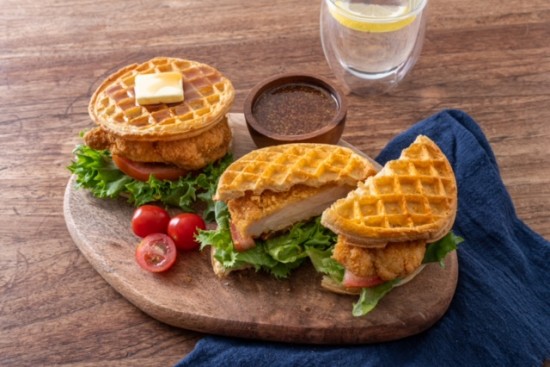 Chicken & Waffles

5 mins

3 SERVINGS
INGREDIENTS
1 pack breaded chicken cutlet
6 frozen waffles, toasted
SAUCE MIXTURE:
1/4 cup spicy brown mustard
1 tbsp white wine vinegar
1/3 cup maple syrup
1/8 tsp salt
1/8 tsp pepper
METHOD
Prepare breaded cutlet according to package instructions.
Toast the frozen waffles
Combine mustard, vinegar and remaining syrup, salt and pepper to form sauce mixture.
Drizzle 1 tbsp sauce mixture over each of 3 waffles. Top with chicken and drizzle with remaining sauce mixture then top with remaining waffles.
Popular Recipes