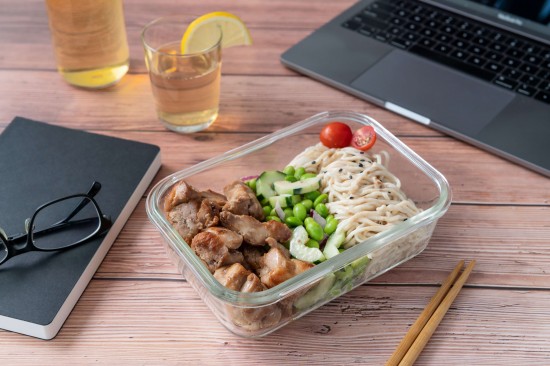 Sesame Noodle Bowl

10 mins

4 SERVINGS
INGREDIENTS
SESAME SAUCE:
1/4 cup sesame paste
1/4 cup warm water
3 tbsp soy sauce
1 tbsp sesame oil
1 tbsp apple cider vinegar
1 clove garlic, grated
Sriracha and sugar to taste
BOWLS:
6-8 ounces stir fry noodles (or Chinese egg noodles / linguine in a pinch)
2 cups edamame, cooked
2 cucumbers, diced
1 lb chicken breast, cooked and diced
Sesame seeds
METHOD
Whisk all sauce ingredients together until smooth. (Alternatively, run it through the food processor or shake it up in a jar.)
Follow package instructions and cook chicken breast.
Cook noodles a few minutes less than package instructions. Rinse them in cold water if your noodles seem very sticky.
Toss noodles with about half of the sesame sauce.
Divide noodles, edamame, cucumber and chicken into containers. Drizzle with a little extra sauce and sprinkle with sesame seeds.
Store in the fridge for 3-4 days and eat hot or cold.
Popular Recipes