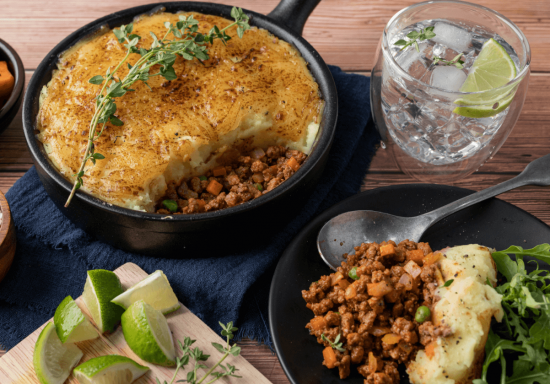 Shepherd's Pie

15-20 mins

4 SERVINGS
INGREDIENTS
1 pack Sadia beef minced
1 tablespoon oil
1 clove garlic chopped
2 onions finely chopped
2 medium carrots finely diced
2 sticks celery finely diced
1/2 teaspoon salt
1/4 teaspoon ground paprika

Ground black pepper to taste :
2 tablespoons white flour
2 tablespoons tomato paste
1 1/3 cup beef broth
1 cup frozen peas
1 tablespoon finely chopped parsley
1/2 teaspoon finely chopped thyme
1 teaspoon finely chopped rosemary
4 cups mashed potatoes
1/2 cup shredded cheddar cheese
METHOD
Heat a large, deep skillet pan with oil over medium-high heat. Brown the ground meat.
Add the chopped vegetables and sauté until softened.
Sprinkle salt, paprika, pepper and flour over the pan. Cook for 2 minutes, stirring frequently
Add tomato paste in and cook. Stir constantly until it smells roasted or for about 1 minute.
Pour in the beef broth. Ensure that there are no browned bits stuck at the bottom of the pan
Stir in herbs and peas and simmer for 4-5 minutes. Allow it to cool in a 7 x 11 inch baking dish.
Prepare 4 cups of mashed potatoes to top off the casserole.
Preheat the oven to 200℃. Spread mashed potatoes over the cooled filling, without mixing the two.
Sprinkle the dish with cheese and bake for 20 minutes or until golden.
Beef Minced
Popular Recipes