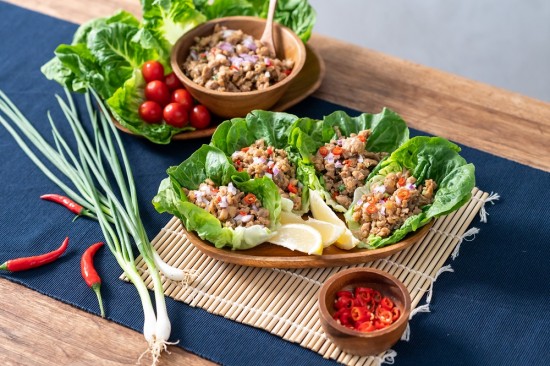 Chicken Lettuce Wrap

15 mins

4 SERVINGS
INGREDIENTS
1 pack Sadia Minced Chicken
3 tbsp hoisin sauce
2 tbsp low-sodium soy sauce
2 tbsp rice wine vinegar
1 tbsp Sriracha (optional)
1 tsp sesame oil
1 tbsp extra-virgin olive oil
1 medium onion, diced
2 cloves garlic, minced
1 tbsp ginger, freshly grated
1/2 cup canned water chestnuts, drained and sliced
2 green onions, thinly sliced
Kosher salt
Black pepper
Large leafy lettuce (leaves separated), for serving
Cooked white rice, for serving (optional)
METHOD
Make the sauce: In a small bowl, whisk together hoisin sauce, soy sauce, rice wine vinegar, Sriracha, and sesame oil.
In a large skillet over medium-high heat, heat olive oil. Add onions and cook until soft for about 5 minutes.
Then stir in garlic and ginger and cook until fragrant for another minute.
Next, add chicken and cook until opaque and mostly cooked through. Then using a wooden spoon or spatula, break up the meat.
Pour in the mixed sauce prepared in Step 1 and cook for 1 to 2 minutes, until sauce reduces slightly and chicken is cooked through completely.
Turn off the heat and stir in chestnuts and green onions. Finish by seasoning with salt and pepper.
Spoon rice (optional) and a large scoop (about 1/4 cup) of chicken mixture into the center of each lettuce leaf. And the dish is complete! You may opt to keep the lettuce and chicken mixture separately for meal prep.
Popular Recipes