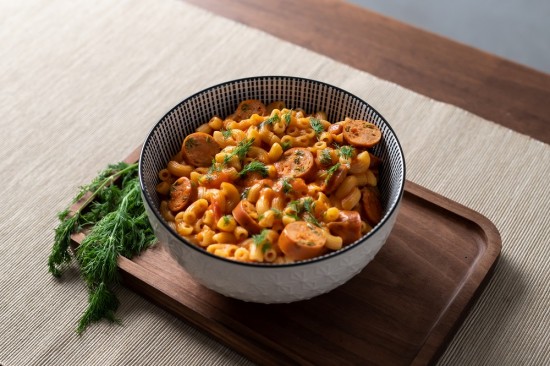 Chicken Sausage Macaroni

2 mins

2 SERVINGS
INGREDIENTS
1 pack Italian Classic Chicken Sausage
1/2 cup macaroni
1/2 cup mozzarella
3 tomatoes, chopped
2 strings dill, chopped
2 garlic cloves
2 tbsp olive oil
1 tsp tomato paste
Salt to taste
METHOD
Place the chopped tomatoes, olive oil and minced garlic in a non-stick pan and cook at medium-high heat for 3-4 minutes until it starts to look like a tomato sauce.
Add a little bit of water (about 1/4 cup), tomato paste, some salt, and stir in the macaroni and dill. The macaroni should be just covered, but not drowning in the sauce to cook properly.
In a separate pan, pan fry sliced sausages for 3 minutes.
Once the macaroni is al dente, then stir in the sausages and mozzarella.
Let the mozzarella melt, making a cheesy tomato sauce.
Serve immediately!
Popular Recipes