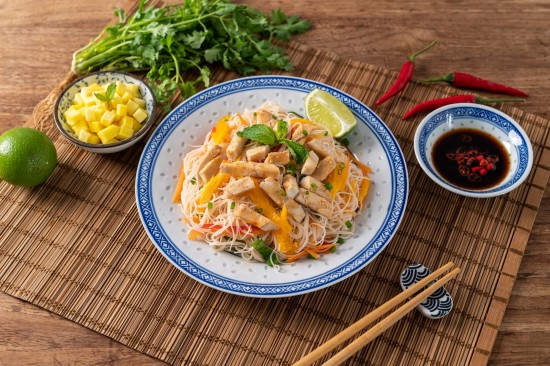 Crispy Mango Chicken Noodles

15mins

4 SERVINGS
INGREDIENTS
1 pack chicken breast strips
55g rice vermicelli
DRESSING
¼ tsp garlic, grated
1 tbsp sugar
2 tbsp. lime juice
½ tsp sriracha
¾ cup carrot, julienned
¾ cup red pepper, julienned
¼ cup scallion, thinly sliced
¾ cup cilantro, roughly chopped
3 tbsp mint leaves, roughly chopped
3 tbsp Thai basil leaves, roughly chopped
½ cup mango, julienned
METHOD
Bring a medium pot of salted water to boil. Add the chicken and simmer until cooked through.
While the chicken is cooking, place the rice vermicelli in a bowl and cover with hot tap water. Allow to soften, for about 10 minutes before draining.
To make the dressing, whisk together the garlic, sugar, lime juice and sriracha and ensure the sugar dissolves.
Add the chicken, carrots, peppers, scallions, cilantro, mint, basil and mango to the vermicelli. Pour in the dressing. Toss well to combine.
Divide between 4 bowls and serve.
Popular Recipes