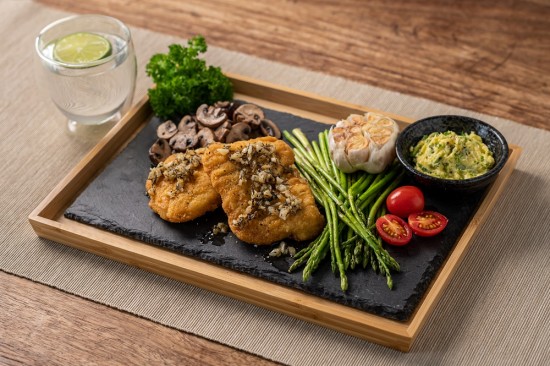 Teriyaki Chicken Cutlet

10 mins

2 SERVINGS
INGREDIENTS
1 pack Breaded Chicken Cutlet (3pcs)
120g swiss brown mushrooms, sliced
1 clove garlic, minced
A pinch of thyme leaves
180-200g / 10 medium spears of asparagus (cut off the woody ends)
Some unsalted butter or cooking oil for cooking
Salt and black pepper to taste
METHOD
Air fry chicken cutlets straight from the freezer at 200°C for 12 mins.
In a hot skillet over medium heat, add some butter to coat the pan (or more to your liking). Add in the sliced mushrooms, season with some salt and pepper to taste, stir fry for about 2-3 mins till darkened and softened.
Remove the mushrooms and set it aside. Repeat the same steps for the asparagus, in medium-high heat.
Add in asparagus, garlic, thyme leaves, salt an pepper to taste, and stir fry for about 3-4 minutes. When asparagus starts to turn tender, reduce heat to medium, and continue cooking for another minute or two.
Once its cooked, serve the chicken, sauteed mushrooms and asparagus on a plate. Drizzle some teriyaki sauce over the chicken and garnish with a lemon wedge.
Popular Recipes