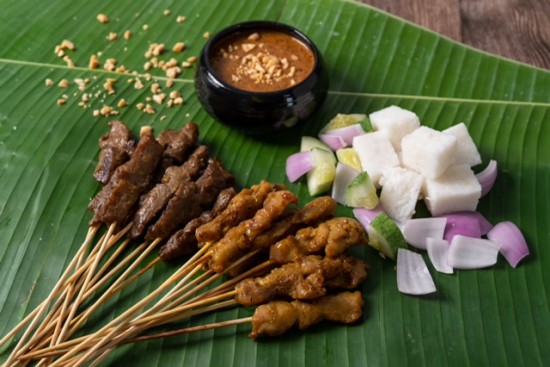 Beef & Chicken Satay

10 mins

4 SERVINGS
INGREDIENTS
1 pack chicken cubes, 1 pack beef cubes
For the marinade:
½ tsp turmeric
1 tsp ground cumin
½ tsp fennel seeds
½ tsp ground cinnamon
75ml coconut milk
For the peanut sauce:
2 tbsp crunchy peanut butter
¼ tsp cayenne pepper
1 tbsp light soy sauce
125ml coconut milk
¼ tsp caster sugar
1 tbsp vegetable oil
METHOD
To make the marinade, mix all the ingredients together and stir in the chicken and beef, mixing thoroughly.
Thread the meat onto skewers and set aside to marinate.
Meanwhile, add the ingredients for the peanut sauce to a small saucepan. Add 3 tablespoons of water and heat gently, stirring.
Heat the oil in a large frying pan and cook the skewers for about 5 minutes, turning so that each side is browned evenly.
Serve immediately with peanut sauce. Enjoy it with rice or instant ketupat.
Beef Cubes
Popular Recipes