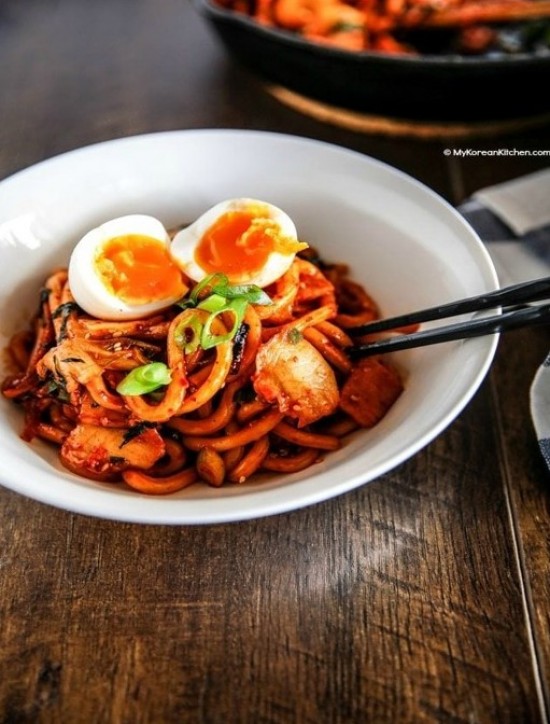 Kimchi Udon Stir-fry with Beef

10 mins

2 SERVINGS
INGREDIENTS
400g udon noodles (2 servings)
100g beef stir-fry (1/2 pack)
1 cup aged Kimchi, chopped into bite sized pieces
50g onion, thinly sliced
30g green onion, thinly sliced

SAUCE (mix these in a bowl):
1 tbsp Korean chilli flakes or regular chilli flakes
1/2 tbsp Korean chilli paste(gochujang)
1 tbsp soy sauce
1 tbsp honey
1 tbsp raw sugar
1/2 tsp garlic, minced
1 tsp sesame oil
1 tsp rice vinegar (optional)

Optional:
2 eggs, soft boiled or pan-fried
pinch of black pepper
1 tbsp sesame seeds, toasted
Few strips seasoned seaweed, roasted
METHOD
Boil udon noodles and cook per package instructions. Drain the water and set aside.
Begin Step 2 at the same time to prevent noodles from getting sticky.
Heat a pan or skillet on medium-high heat. Add some cooking oil to pan. Add beef in and cook for 3-4 mins until it is no longer red. Stir occasionally.
Add onion and kimchi. Cook until they are wilted or for about 1-2 mins. Add the sauce and mix them well.
Add the udon noodles and mix them with the rest of the ingredients. Add green onions and stir lightly.
Serve noodles on a plate and add garnish if you would like.
Beef Stir-Fry
Popular Recipes