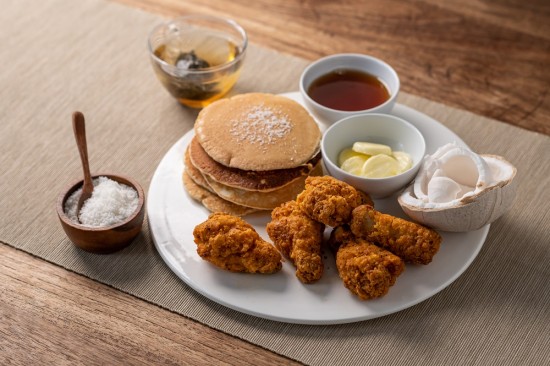 Coconut Pancakes with Nasi Lemak Wings

10 mins

2 SERVINGS
INGREDIENTS
1 pack Nasi Lemak Chicken Wings
Coconut Pancakes:
1 1/4 cup all-purpose flour
2 tbsp sugar
1 tsp baking powder
1/2 tsp baking soda
1/4 tsp salt
1/4 cup shredded, unsweetened coconut
1 egg, beaten
1/2 cup buttermilk
3/4 cup coconut milk
1 tbsp melted unsalted butter
Additional butter or some cooking oil for cooking"
METHOD
Mix all 6 dry ingredients together in a large bowl.
In a separate bowl, add the remaining wet ingredients to the beaten egg and combine well.
Mix the wet ingredients into the dry and stir until incorporated. Don't over mix.
Air fry the Nasi Lemak Chicken Wings straight from the freezer at 200°C for 10-12 mins.
In a hot skillet, add some butter to coat the pan.
Over medium-high heat, drop rounds of batter (about a scoop using a ladle) and cook until bubbles begin to pop in center of the pancakes, for about 2 mins.
Flip pancakes and cook for an additional minute or so until golden brown. Test cook surface and temperature, and adjust cook time accordingly.
Serve the pancakes on a plate, and when the chicken wings are ready, place it on top of the pancakes.
Garnish with some maple syrup if preferred (or on the side), and some side salads or cucumber to give the dish some freshness. Enjoy while its hot with your hot date!
Nasi Lemak Chicken Wings
Popular Recipes