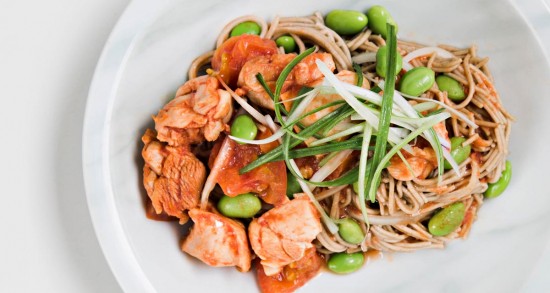 Tomato Chicken Soba

30 mins

4 SERVINGS
INGREDIENTS
3 Sadia Chicken Boneless Leg (approx. 900g)
Marinate for the chicken
2 fresh tomatoes on vine
2 tbsp tomato puree (Hunt's)
2 tbsp sesame oil
1½ tbsp brown sugar
1 tbsp Chinese Shaoxing wine
1 tbsp water
For the soba
270g dry soba noodles, (approx. 1 packet)
1 cup frozen edamame beans
½ large yellow onion
½ bulb garlic
½ spring onion (optional)
METHOD
Preparation
Take out 3 frozen chicken leg steaks from the packet and place them a Ziploc bag. Seal the packet and put remaining pieces in the freezer for future use. Place the Ziploc bag in a container and put it at the lower compartment of the refrigerator to thaw for 1 hour. Dispose thaw liquid away.
Remove skin and fats from chicken leg steaks, and slice them in big chunks. (The size of chicken chunks will shrink when they are steamed)
Put frozen edamame beans into the microwave oven for 2 minutes. Remove beans from pods. Set aside in a bowl.
Cut tomato into chunks. Crush garlic cloves.
Slice yellow onions and spring onions in thin strips.
Cooking directions
In a mixing bowl, pour in tomato chunks and chicken chunks.
Mix marinade ingredients in a bowl. Pour into mixing bowl and add crushed garlic. Combine everything well.
Place tomato chicken chunks into a steaming tray. Steam chicken over medium heat for 13-15 minutes.
Meanwhile, fill stock pot with 3 bowls of water over medium heat. Once it starts boiling, put in soba and cook for 5 minutes. Drain cooked soba noodles and put them in a bowl of ice water to cool the soba, this stops soba from cooking further. Use chopsticks to separate soba in strains.
Portion soba, edamame beans, yellow onion strips in individual bowl. Scoop one ladle of steamed tomato chicken over soba. Garnish with spring onions to serve. Toss well and enjoy.
Notes:
Cook 5-6 minutes for thinner strains and or 7-8 minutes for thicker soba.
Chicken Boneless Leg
Popular Recipes