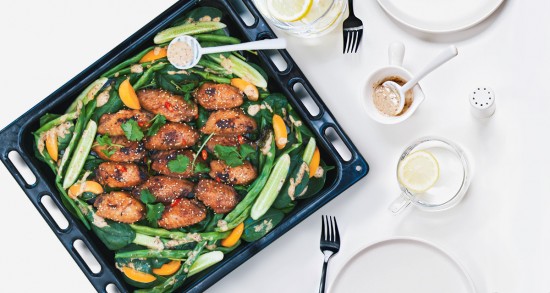 Thai Style Chicken Wings

1 hr

4 SERVINGS
INGREDIENTS
1kg Sadia Mid Joint Wings
Marinate for the chicken
2 lemon grass
8 cloves garlic
Juice of 1 seedless large lime
2 red padi (small red chilli)
2 tbsp sesame oil
2 tbsp Chinese Shaoxing wine
3 tbsp fish sauce
1½ tbsp brown sugar
1 tsp sweet dark soya sauce (optional)
1 tsp white peppercorns (optional)
6-8 lime leaves (optional)
To serve (optional)
1 tbsp toasted white sesame seeds
Chilli padi, chopped
Coriander leaves, chopped
Salad (optional)
250g Indonesian green beans, whole
4 small cucumbers, lengthwise
1 cup baby spinach
1 fresh apricot, sliced
Salad dressing
2 tbsp almond butter
1 tbsp extra virgin coconut oil
1 tbsp apple cider vinegar
1 tsp Dijon mustard
METHOD
Preparation
Place frozen mid joint wings in a container, put them at the lower compartment of the refrigerator to thaw overnight. Open the bag of wings and set aside on a plate. Dispose thaw liquid away.
Use only the bulb of the lemon grass (the white portion is usually tender) and grate them. It will be form approximately 1 teaspoon of grated lemongrass.
Smash garlic cloves using the side of a cleaver. Do not remove garlic skins.
Crush lime leaves to make the flavour and fragrance more potent.
Cooking directions (For the mid joint wings)
Place mid joint wings into a Ziploc bag. Add marinade ingredients into the bag of wings. Seal it up. Shake and massage to season mid joint wings evenly. Marinade for a minimum of 30 minutes in the fridge. For a richer taste, leave in the fridge overnight.
Remove mid joint wings, smashed garlic and lime leaves from the bag into a large bowl. Set aside 1/2 portion of marinate liquid in a separate bowl. Dispose ziploc bag and remaining marinade liquid.
Add 30ml water portion and 3 tablespoons marinade liquid into a frying pan over medium high heat. (This process will destroy any harmful bacteria)
Once marinade mixture starts boiling, add 10 mid joint wings to the pan (depending on how big is the pan). Let them cook for 3 minutes on one side, flip them over to cook for another 2 minutes. Add smashed garlic and lime leaves into the pan.
Notice that the liquid starts to dry up after 5 minutes, turn to low heat and cook the wings for another 2 minutes on each side to achieve a slightly charred surface.
Repeat step 2-4 for the remaining mid joint wings.
Scoop mid joint wings on a serving plate, dispose charred garlic and lime leaves. Sprinkle white sesame seeds, small chilli and coriander leaves over the wings, if using.
Cooking directions (For the salad)
​While leaving the mid joint wings to marinade for at least 30 minutes, blanch green beans in a vegetable steamer for 10 minutes over medium, or until they soften.
Combine all salad dressing in a bowl and whisk till almond butter clumps and Dijon mustard are mixed to liquid form.
Drizzle salad dressing over salad ingredients, mix well. Serve it around Thai style chicken wings on a serving plate.
Notes
Do not recycle or reuse marinate liquid used on raw meat once it has taken out at a room temperature over an extended period.
Using a portion of marinade is safe for cooking, also remember to boil it first before adding raw poultry.
Chicken Mid Joint Wing
One by One Chicken Mid Joint Wing
Popular Recipes