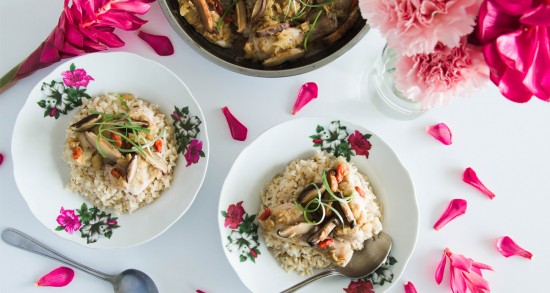 Fermented Bean Paste Ginger Chicken

30 mins

4 SERVINGS
INGREDIENTS
1 Sadia Frozen Chicken Griller
5 Chinese dried mushrooms
1 tbsp goji berries
100g old ginger
1 tbsp fermented bean paste (tau cho)
1 tbsp shaoxing wine
3 tbsp sesame oil
1 tsp oyster sauce
3 tbsp salt
1 cup cooked brown rice
½ spring onion (cut into thin strips), optional
METHOD
Preparation for chicken
It is best to plan your meal a day ahead! Place the frozen chicken in a container at the bottom shelf of the refrigerator, away from other foods to avoid cross contamination.
The container collects the thawed liquid which has to be poured away before cooking. Thawing the chicken in room temperature can allow bacteria to grow.
Fill a small pot with 3 cups of water and let it boil. Meanwhile, chop the chicken into individual parts with a cleaver. Cut off excess fat at the lower parts of the chicken.
Rub all the chicken parts with salt thoroughly and add them into the boiling water for 2 minutes. This is to wash away blood spots of the chicken. Scoop chicken parts in a bowl.
Preparation for other ingredients
Wash the goji berries
Soak the dried mushrooms in a bowl of water for 5-10 minutes. Pour away water, and slice mushrooms into thin strips.
Peel the skin of the old ginger and chop it into small chunks. Smash ginger chucks with the pestle till the they are flattened and juice surfaces. Caution: Keep your eyes away from the mortar while pounding as the ginger juice may splash and hurt your eyes.
Directions
Pour 2 tbsp sesame oil over chicken parts and toss them till they are evenly coated. Arrange them neatly on to a steaming plate.
Mix pounded ginger, fermented bean paste, shaoxing wine, oyster sauce and the remaining sesame oil together. Spread the paste over the chicken parts.
Add mushroom strips and goji berries on top of the chicken pieces. Steam them over medium heat for 12 minutes. Then lower the heat slightly for another 5 minutes. Use a fork or a chopstick to check whether the chicken parts are cooked and tender. If it pierces through the meat easily, turn off the heat.
Sprinkle spring onions over the chicken parts. Serve it with rice and drizzle plenty of sauce over to savour!
Chicken Griller (Without Giblets)
Popular Recipes