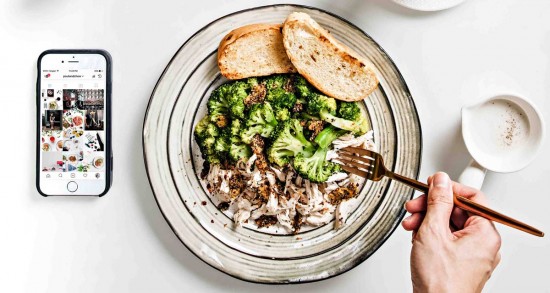 Almond Milk Chicken Salad with Parmesan Chips

20 mins

1 SERVINGS
INGREDIENTS
2-3 Sadia Chicken Fillets with Tendons
½ yellow onion
¾ cup almond milk – Alternative substitutes: full cream milk or coconut milk
1 cup broccoli
¾ cup water
2 tablespoons unsalted butter
½ teaspoon pink sea salt flakes – Alternative substitute: sea salt
Black pepper
Parmesan chips (optional)
2 tablespoons parmesan, grated
1 teaspoon cayenne pepper
1 tablespoon white chia seeds
METHOD
Preparation
Thaw 2-3 pieces of chicken fillet with tendons.
Slice chicken fillet into half, lengthwise (this thickness will speed up cooking process, and also help us to check whether the fillets are fully cooked)
Cut the stalk off the broccoli head and cut each floret lengthwise.
Chop yellow onion into small chunks.
Cooking directions
Pour in milk, onion chunks in a small stock pot. Submerge chicken fillets in the milk mixture over medium low heat for 8-10 minutes. Season with black pepper to taste before turning heat off.
Once chicken fillets are being poached in the milk mixture, scoop them up and shred them in a small bowl. Do not dispose the remaining milk mixture in the pot. Pour 50ml of it in a cup and set aside.
Add unsalted butter into a separate frying pan over medium high heat. Once it starts sizzling, add broccoli florets and stir fry for 30 seconds. Season with sea salt and add water. Cover the frying pan with a lid and turn heat high for 1-2 minutes or until broccoli florets have softened.
For parmesan chips, combine all ingredients in a small bowl. Pour it over an egg skillet over low heat. The mixture will melt completely and harden within 2 minutes. Use a chopstick to gently push in the edges, and flip it over. Cook the other side for 2 minutes or until it is golden brown.
Plate broccoli florets and shredded chicken. Break parmesan chip into crumbs over salad and drizzle almond milk over.
Note:
Poaching is a type of moist-heat cooking technique that involves cooking by submerging delicate food in a liquid, such as water, milk, stock or wine at a low temperature between 60°C - 80°C. Small bubbles will form at the bottom of the pot.
Watch out for the heat while cooking chicken fillets. Lower the heat before milk starts foaming and reaches to the brim.
As parmesan has its natural fat and sodium content, do not add any oil and salt while making the parmesan chip. It will result to a greasy, salty and soft piece of cheese.
One by One Chicken Fillet
Popular Recipes