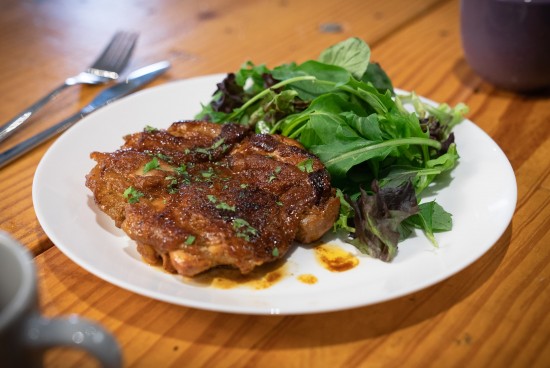 Spiced Chicken with Tangy Honey Glaze

10 min

2 SERVINGS
INGREDIENTS
2 pcs Sadia Chicken Boneless Leg
1 tbsp olive oil
3/4 tsp salt
1 tsp garlic powder
1 tsp chili powder
1/2 tsp ground cumin
1/2 tsp paprika
1/4 tsp cayenne pepper, to taste (optional)
1/2 lime, to garnish
Chopped parsley, to garnish (optional)
Side salad for pairing (optional)
Tangy Honey Glaze:
2 tbsp honey
1/2 tbsp apple cider vinegar
METHOD
In a large bowl, whisk olive oil, salt, garlic powder, chili powder, cumin, paprika, and cayenne pepper (if using). Add in the chicken and toss to coat evenly
Preheat grill pan to medium-high heat. Add the coated chicken, cooking each side for about 5-6 minutes or until cooked through
Whisk honey with apple cider vinegar in a small bowl. You can add more honey or cider vinegar to your desired taste
Brush glaze on both sides of the grilled chicken on the pan. Continue to cook on both sides for another 1-2 minutes till nicely browned and slightly caramelised
Remove chicken from pan to plate. Squeeze some lime juice over and lime zest over the chicken
Sprinkle some chopped parsley and serve with side salad, if preferred. Time to tuck in!
Chicken Boneless Leg
Popular Recipes