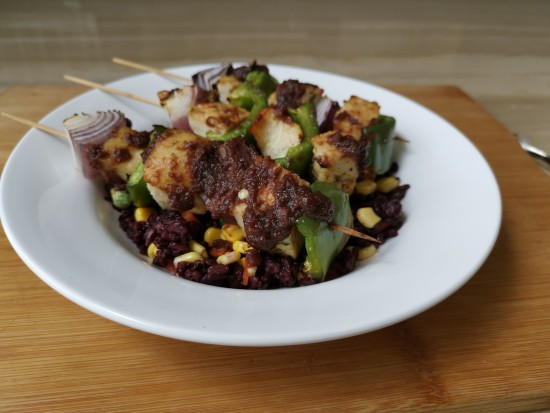 Tamarind Chicken Satay Rice Salad

30 mins

5-6 SERVINGS
INGREDIENTS
Ingredients for Tamarind dressing (Part A and B)
(A)
1 large red onion, peeled and chopped
2 cloves garlic (peeled)
(B)
1 teaspoon coriander powder
4 tablespoons cooking oil
45g assam, mixed with 100g water
20g kicap manis (Indonesian sweet soy sauce)
30g fish sauce
30g sugar
(C)
1 cup cooked red cargo rice
1 cup cooked mixed frozen vegetables
1 packet lemony chicken breast
1 green capsicum
1 cucumber (skin peeled and cut into small pieces)
1 small onion
Bamboo skewers (soaked in water for 2 hours to avoid burning)
METHOD
Blend ingredients in A into a fine paste.
Add cooking oil to the pan, add A into pan and saute for 2 minutes.
Add B and cook until reduced by half.
Cut the capsicum, onion, chicken into cubes.
Skewer the chicken, onion and capsicum onto the bamboo sticks and grill them in toaster oven for 10 minutes.
Mix the cooked mixed vegetables with the cooked red rice, arrange the skewers on the rice, drizzle with the tamarind dressing.
Popular Recipes