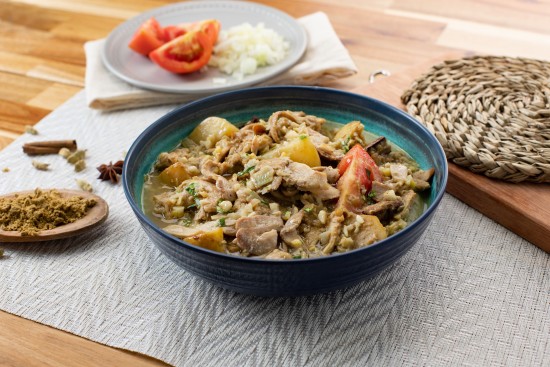 Ayam Kurma with Potato

30 min

2 SERVINGS
INGREDIENTS
Blended
2 onions
1 clove garlic
1-inch ginger
Spices
1 cinnamon stick
3 cardamom
2-star anise
4 cloves
Cooking
300g Sadia chicken shabu shabu
4 fried potatos (deep fried)
4 tbsp Kurma powder
2 tbsp coconut milk
1 tomato
Garnish
Fried onion
Red Chilli
Tomato
Seasonings
METHOD
Blend all onions, garlic and ginger until fine.
In a wok, heat up with cooking oil, add all the blended items and spices, stir fry till fragrant. Add in the kurma powder and continue to stir fry in low heat.
Once the spice mix is aromatic, add in coconut milk and a bit of water and let it simmer.
Lastly add in chicken shabu shabu and fried potatoes, stir fry for 3-4 minutes until the chicken are cooked. Add salt to taste and remove from heat.
Garnish with tomatoes, red chilli and fried onion.
Popular Recipes