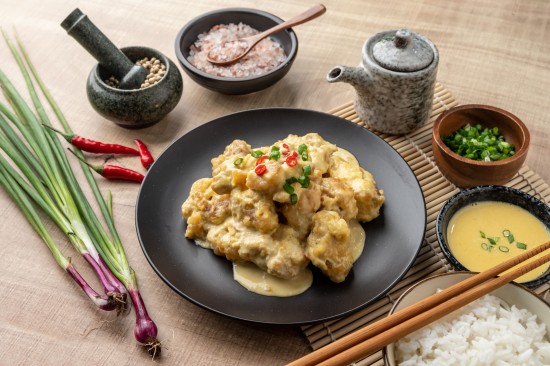 Crispy Creamy Chicken Bits

30 min

4 SERVINGS
INGREDIENTS
Marinade:
1 packet Sadia Chicken Cubes
1 egg white
2 tbsp chinese rice wine
Pinch of salt
2 tbsp oyster sauce
3 tbsp corn flour
1 dash of white pepper

Creamy sauce:
30g butter
1 egg yolk
5 chopped garlic cloves
handful of curry leaves
1 cup evaporated milk
1/2 tbsp sugar
1 tbsp salt
1 chilli padi (optional)

Frying:
Corn flour
Vegetable oil
METHOD
Mix ingredients for marinade and marinate chicken cubes for at least 30min.
Coat marinated chicken with corn flour and leave to rest for 5 min.
Heat a pan of oil to medium heat and fry chicken til golden brown. Set aside on paper towels to rest.
In a clean pan, stir fry chopped garlic and curry leaves with butter til golden. Add milk, sugar and salt and cook until sauce starts to thicken.
Add fried chicken and stir evenly. Add chilli padi before serving.
Popular Recipes