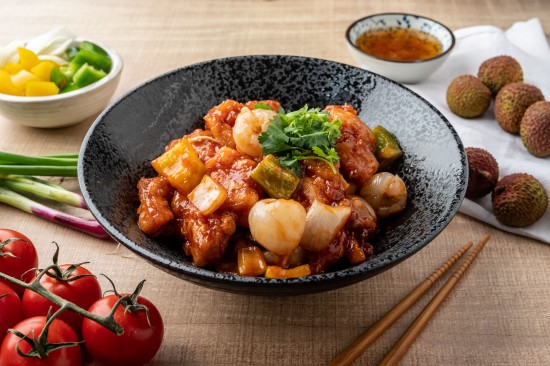 Sweet and Sour Chicken

30 min

4 SERVINGS
INGREDIENTS
1 packet Sadia Chicken Cubes
Handful of lychees
1 onion
1 capsicum
2 chopped garlic cloves
Vegetable oil for deep frying
2 egg whites
8 tbsp cornflour

Sweet & Sour sauce
1 tbsp soy sauce
5 tbsp sugar
5 tbsp vinegar
8 tbsp ketchup
2 tbsp plum sauce
METHOD
Mix ingredients for sweet and sour sauce and add a bit of water or lychee syrup (from canned lychee) if necessary
Chop capsicum and onion into bite sized pieces.
Dip chicken cubes into egg white, coat in corn flour then fry at medium heat till golden brown.
Heat up pan with 1 tbsp of oil, fry garlic till fragrant and add capsium and onions. Stir fry for for 15 secs.
Add sweet and sour sauce to the pan. Once sauce thickens, add lychee and fried chicken and stir fry for 15 secs. Ensure all pieces are evenly mixed and coated before servings.
Popular Recipes