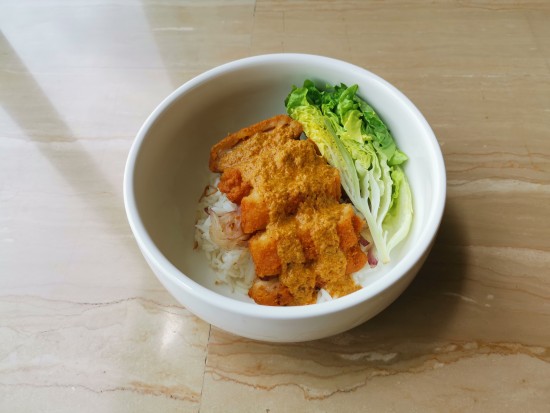 Curry on Breaded Chicken Cutlet and Rice

30min

SERVINGS
INGREDIENTS
1 packet of Sadia Breaded Chicken Cutlet
2 large red onions, peeled and cut into rings
1 bunch of greens or lettuce or cherry tomatoes
Rice
Curry sauce (A)
2 red onions, chopped
20 cloves of garlic
5cm length of ginger, peeled and cut into slices
2 tbs of water
Curry sauce (B)
1 stalk of lemongrass, peeled and broken
1 stalk of curry leaves
6 tbs of curry powder (meat)
500ml (2 cups) of coconut milk
1 tbs of sugar
2 tbs of salt
3 tbs of vegetable oil
100ml of water
METHOD
Curry sauce (A)
Blend until fine.
Set aside for frying later.
Curry sauce (B)
Fry (A) in 2 tbs of heated vegetable oil in saucepan for 8 minutes.
Add curry leaves and curry powder to (A) and saute for 3 minutes.
Add the coconut milk, water, lemongrass, salt and sugar to the pan and bring to a boil.
Simmer and reduce the mixture by half.
Quick Tip: Use premix curry powder/paste to shorten prep time for curry sauce.
In a separate pan, fry the onion rings in the remaining 1 tbs of vegetable oil until soft.
Cook the rice (can be short grain or jasmine rice).
Cook the breaded chicken cutlet in the air fryer/toaster oven.
Spoon out your rice into a bowl, ladle the cooked onions onto the rice, place cut chicken on top of onions. Ladle the curry sauce over the cutlet, onions and rice.
Serve with greens or lettuce or cherry tomatoes.

Popular Recipes