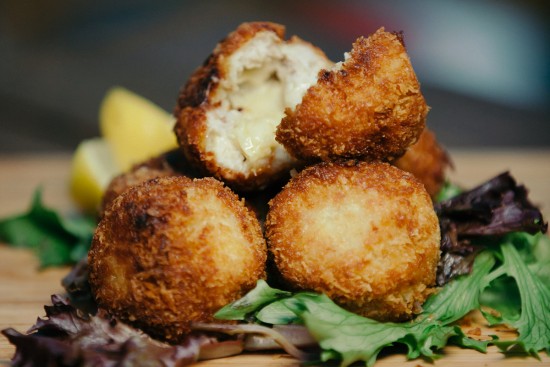 Breaded Chicken Cheese Balls

1.5 hr

4 SERVINGS
INGREDIENTS
400g Sadia boneless skinless chicken breast
400g Sadia boneless skinless leg or thigh
1 whole garlic
1 whole onion
2g white pepper powder
10g sea salt
200g rectangular block of any yellow cheese (Gouda, Emmental, Jack)
200g breadcrumbs
1 egg, beaten
Oil for deep-frying
1 lemon, cut into wedges
METHOD
Blend the two types of chicken meat together with the onion, garlic, salt and pepper till smooth and consistent.
Freeze the chicken paste for 1 hour.
Divide the chicken paste into 20 portions and round them into balls.
Place 10g cheese in the middle of each ball.
Drop the balls into the beaten egg, then coat them with the breadcrumbs.
Deep-fry the chicken balls till golden brown.
Serve with a squeeze of lemon juice.
Chicken Boneless Leg
One by One Chicken Breast (Skinless)
Popular Recipes