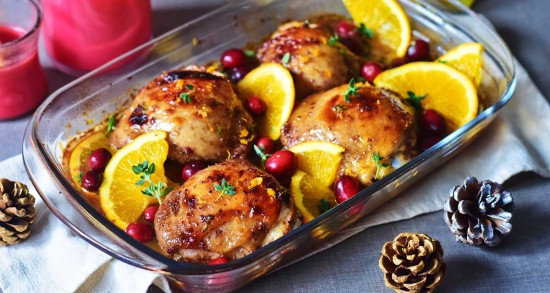 Orange Cranberry Chicken Thighs

40 mins

4 SERVINGS
INGREDIENTS
4 Sadia One-by-One chicken thighs
1/2 cup fresh cranberries
1 tablespoon honey
1 tablespoon fresh thyme leaves
Zest of 1 orange as garnish
Marinade
1/4 cup fresh cranberries
2 tablespoons olive oil
3 tablespoons brown sugar
2 tablespoons balsamic vinegar
Juice of 1 fresh navel orange
1/4 teaspoon salt
1/4 teaspoon black pepper
METHOD
Mix all the marinade ingredients in a food processor and blend until smooth.
Add chicken to a large zip-lock bag. Pour the marinade over the chicken and marinate for 1 hour or overnight.
When ready to cook, preheat oven to 200C.
Add the chicken to a lightly greased roasting pan and pour the marinade over chicken.
Sprinkle thyme leaves around and on the chicken.
Add the remaining 1/2 cup of cranberries to the pan.
Bake the chicken for 25 minutes, then remove from oven.
Brush honey over the chicken.
Turn on the broiler and broil for 1-2 minutes, or until the skin on the chicken is golden brown. Watch it closely so it doesn't burn.
Garnish with fresh orange zest.
A delicious festive dish made with fresh cranberries and citrusy orange. Put it together within minutes and leave it to the oven to do the rest of the work. Leaving you with more time to enjoy great company during this season of giving. Having the chicken individually frozen is a great convenience. It allows me to take what I need for the recipe without having to thaw out the whole package. That means I get to keep the remaining chicken thighs frozen, minimising food wastage!
Chicken Thigh
Popular Recipes