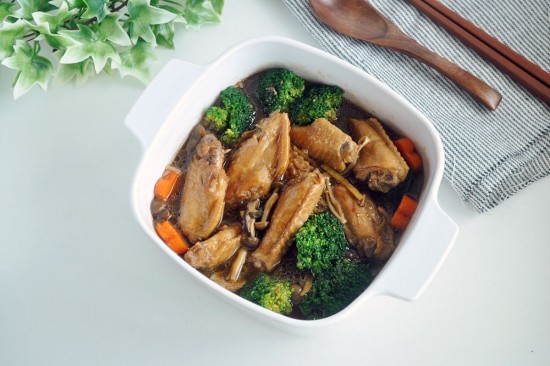 Braised Chicken With Tri Mushrooms

40 mins (excludes marination)

3 SERVINGS
INGREDIENTS
16 pcs of mid-joint wings
80 of shitake mushrooms (sliced)
80g of enoki mushrooms (chopped)
80g of buna shimeiji mushrooms, (chopped)
Minced Garlic, 2 tbsp
Ginger, 5 pcs (sliced)
Spring onion, 4-5 stalks (sectioned)
Small red onion, 1 (sliced)
Cooking oil, 2 tbsp
(optional) Broccoli, to taste
(optional) Carrots, to taste (sliced)
Marinade:
Light soy sauce, 2 tbsp
Sesame oil, 2 tsp
Garlic powder, 1 tsp
Pepper, 1 tsp
Corn flour, 2 tsp
Braised Sauce:
Dark soy sauce, 2 tbsp
Oyster sauce, 2 tbsp
Light soy sauce, 1 tbsp
Shaoxing wine, 2 tbsp
Water, 350ml
Thickening Solution:
Corn flour, 2 tsp
Water, 2 tbsp
METHOD
Wash and clean the chicken mid-joints. Pat them dry with paper towel. Marinate the chicken mid-joints and cover. Leave it to marinate in the fridge and for at least 2 hours, preferably overnight.

Prepare the braised sauce by combining all the ingredients together.

Heat up the cooking oil in a deep frying pan. Add the minced garlic and stir fry till it's fragrant. Add the spring onion, ginger and red onion in that order, and again, stir fry till it's fragrant. Add in the mushrooms and fry briefly. Add in the braised sauce. Stir for 30 seconds.

Add the chicken. Ensure that the meat is well-covered by the sauce. Cover the pan and allow it to simmer for 10 minutes or until the sauce starts to boil. Remove the lid and allow the chicken tosimmer until it is fully cooked. This will take approximately another 10 minutes. Stir occassionally. Add in the thickening solution. Turn off the flame when the sauce looks slightly thick.

Blanch the broccoli and carrots.

Put the blanched vegetables into a pot with the braised chicken and serve hot.
Brief introduction about the dish
Braised dishes are fuss-free and require minimal washing up. All you need to do is add some rice and it's a full meal! Braised chicken is an especially convenient dish to make. Cook a huge pot and freeze some of it for later, and when you need a quick meal, just defrost and heat it up.
The longer you braise your meats, the more flavour they soak in. You can also tune the dish to your taste and make it less salty compared to the dishes found at hawker centres.
One by One Chicken Mid Joint Wing
Popular Recipes