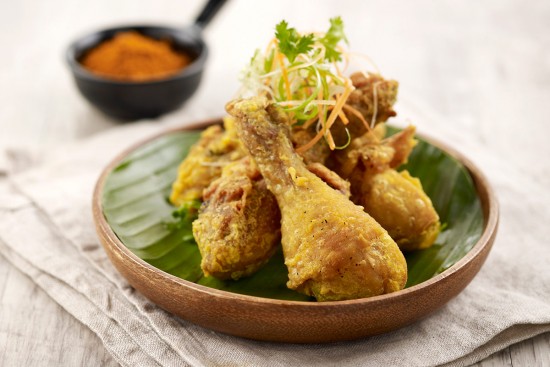 Fried Turmeric Chicken Drumstick

NOT AVAILABLE

5 SERVINGS
INGREDIENTS
Sadia One by One Chicken Drumstick
Marinade:
Water 300gm
Garlic Paste 30gm
Ginger Paste 30gm
Turmeric Powder 15gm
Chicken Curry Powder 10gm
Salt 25gm
Curry Leaves 30gm
Coriander Leaves 30gm
Lemon Grass – 2 stalks
Corn Oil 20gm
Batter:
Corn Flour 30gm
Plain Flour 30gm
Rice Flour 30gm
Water 150gm
Turmeric Powder 10gm
Salt 5gm
METHOD
Marinate chicken drumstick with garlic, ginger, turmeric, curry powder, salt & corn oil for 1 hr.
Stir Fry lemon grass, curry leaves and coriander leaves in a pot.
Add water and bring to a boil before adding chicken.
Cook till chicken is tender (25mins) over low heat.
Remove chicken from the pot and set aside.
To prepare the batter, mix all flour, water and turmeric powder in a bowl.
Coat chicken with batter and make sure oil is hot enough before deep frying till golden brown.
Chicken Drumstick
Popular Recipes