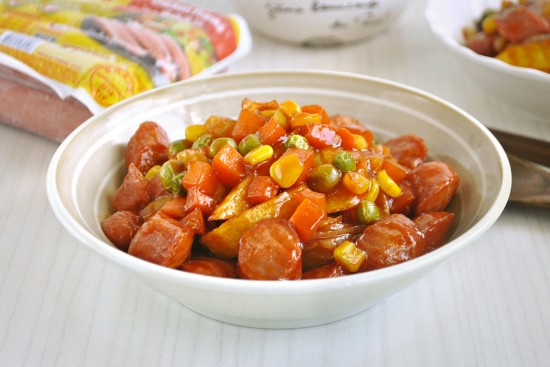 Oriental Stir-fried Franks with Potatoes

30 mins

2 SERVINGS
INGREDIENTS
5 Sadia Chicken franks, slicedd
2 potatoes, sliced
½ cup mixed vegetables
1 tablespoon cooking oil*
1 teaspoon minced garlic
½ onion, sliced
Oriental Tomato Sauce:
2½ tablespoons of ketchup
½ tablespoon of oyster sauce
½ tablespoon of Indonesian sweet soya sauce**
2 tablespoons of Japanese mirin or white vinegar
2 teaspoons of sugar
* For deep-frying, use a deep and small pot and heat up just enough oil to cover the potatoes and chicken franks.
** Indonesian sweet soya sauce is also known as kecap manis. It can be found in most supermarkets.
METHOD
Boil some water to blanch the mixed vegetables. When they float to the surface, drain and set aside.
Heat up some cooking oil in a wok and deep-fry the potatoes. When the edges of the potatoes turn slightly brown, remove and set aside on paper towels to soak up excess oil.
Using the same hot oil, deep-fry the chicken franks until they float to the surface. This take sapproximately 1 minute. Take out the chicken franks and set them aside.
Heat up 1 tablespoon of cooking oil in a deep frying pan and saute the minced garlic and sliced onions until fragrant. Add in the Oriental Tomato Sauce and let it simmer.
Add the potatoes and chicken franks into the sauce. Stir well to ensure all the potatoes and chicken franks are well coated with sauce. Add in the blanched vegetables. Stir slightly to mix, then turn off the flame. Serve hot.
Chicken Franks
Popular Recipes