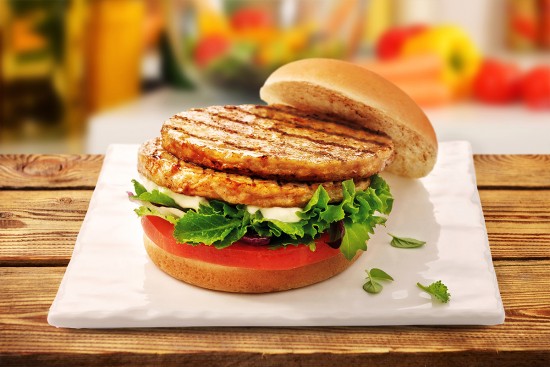 Chicken Burger

30 mins

4 SERVINGS
INGREDIENTS
Sadia chicken patties
4 1/2-inch-thick slices country white bread
4 1/3-inch-thick slices from large red or orange heirloom tomato
1 cup mayonnaise
1 1/4 cups chopped fresh basil plus 8 large leaves, divided
3 tablespoons chopped drained cornichons or dill pickle plus 1 1/2 tablespoons brine from jar
METHOD
Preheat the skillet over medium heat on a stove top burner for five minutes.
Place the frozen chicken patties in an even layer in the skillet.
Cook the frozen chicken patties for about six minutes, or until they are completely brown on one side.
Flip the patties with a spatula. Cook the patties on the opposite side for another six minutes or until the opposite side is brown.
Remove the patties from the skillet with the spatula and place them on a plate lined with paper towels to drain any excess fat. Blot the tops of the patties with paper towels to remove fat from both sides.
Mix mayonnaise, 1 cup chopped basil, cornichons, brine, and onions in small bowl.
Grill bread until crisp and golden, about 1 minute per side. Transfer bread to plates. Grill burgers until firm to touch and cooked through, about 5 minutes per side.
Spread bread slices thickly with basil mayonnaise. Top each bread slice with tomato, 2 basil leaves, burger, and dollop of basil mayonnaise. Garnish with remaining chopped basil.
Chicken Burger Patties
Popular Recipes