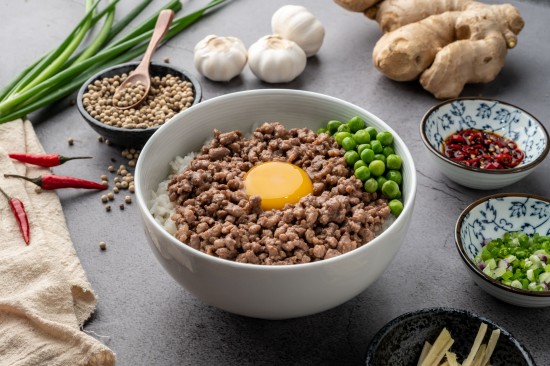 Cantonese Ground Beef Rice and Eggs

30 min

2 to 4 SERVINGS
INGREDIENTS
1 packet of Sadia Minced Beef
2 cloves of minced garlic
1 cup green peas (optional)
2 egg yolks

Marinade
1 tbsp oyster sauce
2 tbsp of light soysauce
Dash of white pepper
1 tbsp minced ginger
1/2 tbsp sugar
1/3 tbsp of salt
2 tbsp cornstarch
METHOD
Cook rice in a pot.
Mix ingredients for marinade and marinate beef for at least 15 min.
Heat up pan with 1 tbsp of oil and stir fry garlic till fragrant. Add peas and marinated mince beef and stir fry till beef is cooked.
When rice is about to be cooked, add beef and egg yolks and let steam for 1-2mins before serving.
Beef Minced
Popular Recipes